PLUS
Celotno stanovanje · 2 gosta · 1 postelja · 1 kopalnica
Modern Home Maryn, Renovated Hideaway Walking Distance to the Beach
Climb a suspended staircase that leads invitingly to a snug and romantic sleeping loft. Come morning, make breakfast in a compact kitchen remodeled in crisp white cabinetry and tiles. Relax on a couch and plan an excursion into the historic city.
Kaj pravijo gostje:
"Apartma je moderno opremljen, ima vsa udobja, ki jih potrebujete, čisto in urejeno ter ustreza potrebam krajšega ali daljšega bivanja. V bližini stanovanja je na voljo brezplačno javno parkirišče, kjer lahko pustite avto. Gospa Ljiljana nas je po predhodnem dogovoru čakala na parkirišču in nam razkazala stanovanje ter podala osnovne podatke. Stanovanje je v bližini KBC-ja v Splitu, nekaj minut peš, sam center pa traja 20-25 minut. Moja topla stanovanja priporočila! Upam, da se spet vidimo! Hvala :)"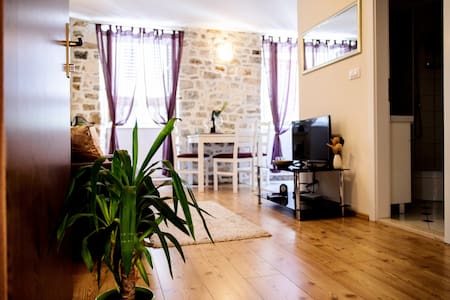 SUPERHOST
Celotno stanovanje · 2 gosta · 1 postelja · 1 kopalnica
Split Center- Central point of Diocletians Palace
Charming apartment at the heart of Diocletian's Palace. Newly refurbished, adapted in stone house is modern decorated with traditional elements. Centrally located. Fully equipped with all amenities. Consists of a spacious bedroom with the queen size bed, bathroom and the living room (extendable double sofa bed) connected with kitchen. This peaceful place makes you sense the spirit of Mediterranean city with rich history at your fingertips. Harbour,main bus and railway stations are 5 min walk.